The 2021 Subaru Love Promise Customer and Community Commitment Award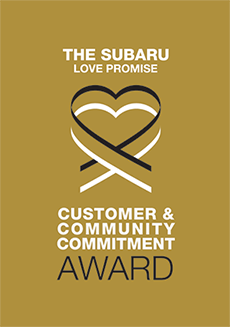 We've been nationally recognized for our dedication to our customers, our community, and the Subaru Love Promise.
We're honored to receive the 2021 Subaru Love Promise Customer and Community Commitment Award. This award nationally recognizes elite Subaru retailers who provide an exceptional customer experience at every interaction with Subaru. These retailers have also demonstrated an outstanding commitment to supporting passions and causes in their local communities in important areas such as the environment, community, health, education, and pets.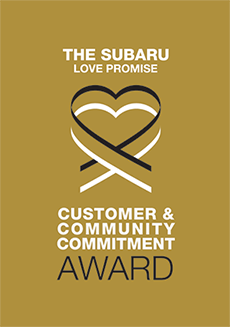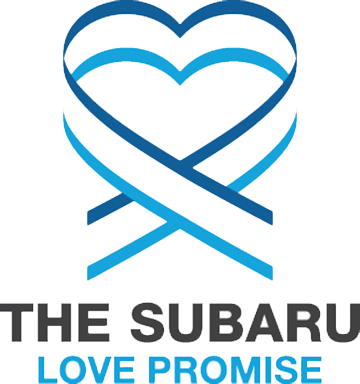 What is the Subaru Love Promise?
Subaru and our retailers believe in making the world a better place and the Subaru Love Promise is our vision of respecting all people. This is our commitment to show love and respect to our customers and to work to make a positive impact in the world.
How is Brewster Subaru dedicated locally to the Love Promise?
Our Love Promise can be seen in various partnerships with local charities and non-profits. We're grateful for the opportunity, not only to be a part of our community, but to serve it as well.
Recycled Paws Rescue, Second Chance Rescue
Green Chimneys Education Program
Green Chimneys Arbor House Youth Shelter
Nuvance Health- Including Putnam Hospital, Danbury Hospital and New Milford Hospital, Ability Beyond
Love Promise Stories from Brewster Subaru
Subaru and Brewster Subaru believe in making a positive impact on the communities in which we live and work. We uphold that belief through our Love Promise Community Commitment. Every month, we select inspiring stories from customers and partners from around our area who strive to support our collective commitment and feature them here
"True Love" Stuffs-the-Subaru for Kids in Need - Terri K
In celebration of the Subaru True Love Event, Brewster Subaru showed their compassion and care by organizing a Forever Teddy Bear Drive at their dealership. During the month of February, with every new Subaru purchase, Brewster donated a Forever Teddy Bear to a foster child through Family and Children's Aid. In addition, customers were invited to fill out a notecard to be attached to the bear, showing love and support to the child who received it. At the end of the month, the back of the Subaru on the showroom floor was filled with Forever Bears and beautiful, heartfelt notes! Family & Children's Aid is so grateful to the Brewster Subaru team and their caring customers for the donation of adorable stuffed Forever Bears. The Bears are being given to children in our Harmony House shelter for homeless moms and their kids, as well as to other children in transition in our programs. This past year has been a stressful one for kids, and we are grateful to bring some comfort to them with the snuggly bears.
---
Subaru Hops Aboard the Ability Beyond Meal Train - Michele S
Over the years, Ability Beyond has benefited from a strong and charitable partnership with Brewster Subaru. With their generous support through events such as "Share the Love," we have continued to advance our mission of empowering people with developmental disabilities that live and work in our community. During this unprecedented year, we have faced challenges brought on by the global pandemic and have had to make important changes to deal with them. The Leir Pavilion at our Bethel Headquarters now serves as Ability Beyond's recovery hub for adults served in our residential program who are COVID-19 positive or presumptive positive and need to be isolated from the other people we serve. This temporary space was constructed in an effort to flatten the curve and keep other residents from being exposed. Ability Beyond staff members have been called upon to work around the clock in 12-hour shifts to care for those in isolation. In an expression of support and gratitude, a "Meal Train" donation plan of breakfast, lunch and dinner offerings has been set up to feed the members of the Hub team. We are so grateful to Brewster Subaru's commitment to the "Subaru Loves to Care" promise shown by preparing and delivering homemade and restaurant meals to the staff at our Hub. These contributions of delicious food were greatly appreciated and mean so much to the frontline workers. Thank you to all for your partnership and thoughtfulness!
---
Share the Love Event Helps Build Pediatric Unit - Susan K
We at Nuvance Health are honored to have been selected by Brewster Subaru for the second year in a row as the recipient of their "Share the Love" sales event. The Beylouni Family and Brewster Subaru supported the construction of the Anna-Maria and Stephen Kellen Pediatric Unit at Danbury Hospital which opened in 2019. Their generous donation helped create a colorful six-room unit, with a cheerful "Under the Sea" theme, to comfort and lift the spirits of our youngest patients while they are here. The children can now feel more at home, with amenities such as a fun, play area with separate zones for different ages, equipped with everything from building blocks to video games. The new patient rooms also feature an area for parents - with a sliding glass door, refrigerator, closet, monitor and sleeping chair - all designed with a collaborative approach to caring. We are deeply grateful to Brewster Subaru and their commitment and compassion to the health care of our community and for once again, "sharing the love."
---
Science Book Donation Continues to Help in 2020 - Jennifer T
Green Chimneys was delighted to be a beneficiary of the donated science books through Brewster Subaru and their partnership with the nationwide - Subaru Loves Learning initiative. Through this program, Brewster Subaru provided our teachers with more tools to help educate and inspire the children we serve with mental, emotional, and developmental challenges. In turn, our students developed a greater interest in science and a better appreciation of reading. These books have also enhanced our vocational programs at Green Chimneys by further introducing our students to various career opportunities in science, technology, engineering, and mathematics. These wonderful books have become a popular part of our teaching strategy in 2020 as we emphasize the importance of science and educate our students while in a pandemic. We will use these books as a resource for many years to come. Thank you again for all the Brewster Subaru is doing to help Green Chimneys and the community.
---
Dealership's Love Promise Helps Children Learn - Terri E
Brewster Subaru's commitment to the "Subaru Loves Learning" community promise resulted in a successful school supply and book collection this fall. Family & Children's Aid accepts donations of school supplies and books to help children learn. Many of the kids we serve do not have access to these materials. We distribute school supplies at the beginning of the year to any clients with need, and throughout the year to kids in our Extend after school program. We invite kids to take books home, and provide books to teens who are in our group homes. We appreciate the support of Brewster Subaru and thank them for this important donation.
---
"Subaru Loves Pets" Adoption Day!! - Morgan C
On Sunday, October 11th, I had the awesome opportunity to be a part of the Subaru Loves Pets live puppy adoption day, at Brewster Subaru. I am a 16-year-old high school junior and have always been very active in volunteering in my community. I like the feeling of being helpful and involved, so when my Girl Scout leader saw Brewster's Facebook post and asked our troop if any of us wanted to help out, I jumped at the chance. Once my friends and I arrived we were put to work with some pretty fun tasks. We packaged up cute Subaru dog toys like the "Out-Bark" wagon, topped with either a little tent, kayak, or bike; we taped the sidewalk to mark 6 foot social distancing for the people waiting in line to get in; we also set up tables with balloons and organized the pet swag for adopters to take home. The best part was while we were working to get ready to open the doors, we were surrounded by 30 adorable puppies who were playing, barking, and excitedly waiting to meet their future families!! While I was there that day, I found out more about the Love Promises and all the amazing things Subaru does to help make our world a better place. I also greatly admire the work Recycled Paws Rescue does to find safe and loving homes for puppies and dogs. The event itself was a big success! People had to wait in line outside for a long time because of the Covid-19 indoor limit, but once they got in, everyone seemed really happy and excited to be there. Eighteen puppies were adopted that day, and I was really glad to have helped at such a fun and meaningful event. Thank you to Brewster Subaru, Recycled Paws Rescue, and Girl Scout Troop 50013 for this great opportunity to help in our community!
---
Recycled Paws Rescue "Loves" Brewster Subaru - Kristen K
Recycled Paws Rescue and Brewster Subaru collaborated for #SubaruLovesPets for the month of October and it was truly a blessing for the rescue. We were so honored to be chosen as their Love Promise partner, and the recipient of $100 per pet adopted over the course of the month. We set our sights on the given goal of 31 adoptions, one for each day in October, resulting in $3100 from Brewster Subaru and Subaru of America and hit the ground running. Brewster was great in supporting us on social media by posting a "Dog of the Day" as well as highlighting our "Underdogs," the physically challenged pups, on National Make a Dog's Day. On October 11th, Brewster Subaru hosted a live adoption event at the dealership. It was an amazing turn out and a great success with 18 (EIGHTEEN!!!) adoptions that day! It was so wonderful to see so many happy people choosing a puppy to take into their family, heart, and home. We are so grateful to the staff at Brewster Subaru who were lovely to work with and incredibly accommodating to the needs of the rescue. Subaru Loves Pets is an incredible program, and we are so proud to have exceeded the goal with an incredible 51 adoptions for the month!!!! The adoptions of Suzy Subaru and Baby (now Bear) were my favorites: In mid September, the team at RPR organized a transport from our rescue partner in Alabama. A yellow lab mix female, just 6 weeks old, was on the transport and we lovingly named her Suzy Subaru - she was the mascot for our event with Brewster. She had a rough start, but she was adopted into a loving home at Brewster Subaru. Bear was found on an abandoned property in Alabama with 60 other furry friends. When he arrived in New York ‪on June 5th‬ he was completely shut down and terrified of humans. Bear wouldn't come out of his crate for several days. He was in our care in a wonderful foster home for 4 months where he learned that humans can be friends and that hands don't hurt. The rescue also had him neutered during that time. After several months of socialization, Bear was finally ready to meet his forever family at the Brewster Subaru event! We checked in with Bear and Suzy recently. The two became fast friends and siblings! Bear, once a young fearful pup, is now a loving and adoring dog. He came right up to me for some pats and showed me all of the tricks he's learned. It truly brought tears to my eyes. This is what rescue is about! We couldn't have done it without Brewster Subaru. Thank you SO much!!!!
---
Brewster Subaru Helps Arbor House Homeless Youths - Clare R
Because of the generous and thoughtful donations from Brewster Subaru, youth who use the Green Chimneys Arbor House Youth Shelter can experience comforts of new blankets and foods of their choice while navigating difficult situations. Green Chimneys Arbor House Youth Shelter is dedicated to providing temporary residential services and respite to children and families who are in need of shelter, conflict resolution, or a respite. There are many times when a youth enters the shelter with very few belongings and in a state of turmoil. Creating a calm and safe environment is essential to the process of creating a plan that results in an optimal outcome. We are so grateful to the Brewster Subaru team for spreading the love and choosing Green Chimneys Arbor House.
---
Subaru's Generosity Empowers Ability Beyond - Cathie P
Through their generosity and compassionate commitment to the people served by Ability Beyond, Brewster Subaru helps people with disabilities to live, work and thrive as members of their community. Brewster Subaru's Share the Love generosity each year supports Ability Beyond's work to empower every person—no matter their ability. With programs in Norwalk, Bethel and Chappaqua, NY, Ability Beyond's services and resources profoundly impact the quality of life for more than 3,000 people with disabilities each year in Connecticut, New York and throughout the US. For over 60 years, Ability Beyond has led the way in providing independent housing, community-based day programs, award-winning employment initiatives, and creatively-adapted communication devices—all to support optimum well-being and honor the dignity and pride of people with developmental, intellectual, autism spectrum and mental health disabilities. Above and beyond our direct care services, Ability Beyond is an innovative force for all people throughout the health and human services arena. Brewster Subaru helps to make the Beyond in our name and our mission possible for everyone who needs Ability Beyond—we are deeply grateful!
---
Pooch-a-Pawlooza - Michelle H
I've been fostering with the Crate Escape for 4 years now, so when Subaru announced that October was Subaru Loves Pets month I was ready. I love that Subaru is all about the dogs, from making dealerships dog friendly, to offering gear. The Crate Escape is such a great organization they pull dogs all the way from North Carolina and foster until the very end, no dog gets left behind! Brewster Subaru allowed us to open on a Sunday, normally closed, to host a free on site adoption event. We had vendors who donated lovely prizes and collected over 15 bags of dog food. But the best part was that 9 out of 15 dogs got adopted! Thank you for the help Subaru. You'll never know how truly grateful these dogs are because of you!
---